Every year as Valentine's Day approaches, many of us rack our brains trying to find the perfect gift for that special someone. I have found myself searching for gift ideas on Google in an effort to be more creative and thoughtful than the year before.
I think it goes without saying that it's truly the thought that counts. As much as we all want to be appreciated every day of the year, it is still amazing to be treated even when you expect it.
This year you're in luck. In this post, I'm sharing Valentine's Day gifts for him and her. The great thing about these items is they are not specific to February 14th and make great gift ideas all year round.
The Best Valentine's Day Gift Ideas for Him
Maybe it's just me (which I doubt) but as simple as men are, they are difficult people to shop for. Until someone invents the equivalent of red roses for men, we'll keep searching high and low for perfect gifts every year.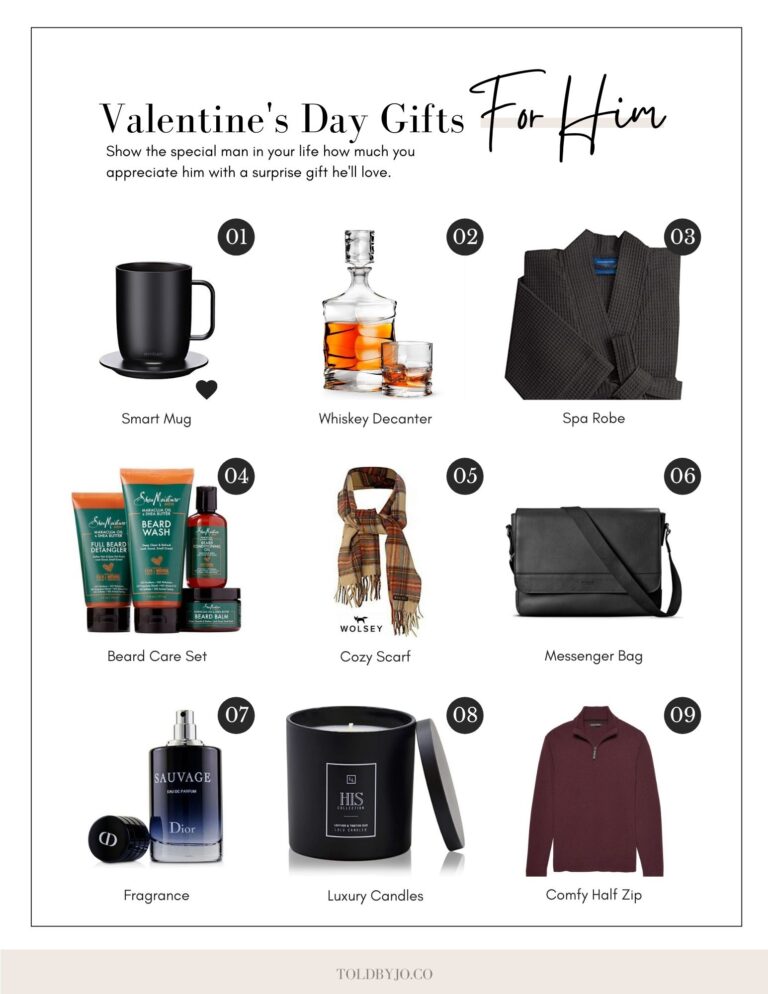 01. Smart mug to keep his coffee hot right until the last sip. This is genius and so practical.
02. A beautiful decanter set for the whisky and scotch enthusiast.
03. A spa robe for a comfy relaxing Valentine's Day in. 
04. The beard care set is great for beards of all shapes and sizes. Plus it smells amazing.
05. The perfect accessory for a polished look. My husband is a huge fan of scarves.
06. The leather messenger bag is perfect for a man on the go. Great for carrying a laptop!
07. Every man should have a signature scent. I love Chanel Bleu and Dior Sauvage for men.
08. The minimal and sleek design on these luxury candles is perfect for his side of the bed.
09. A nice half zip sweater perfect for a romantic Valentine's Day dinner. 
Thoughtful Valentine's Day Gift Ideas for Women
You can never go wrong with a fresh bouquet of roses but if you want to switch it up, here are some great gift options for her. No matter what you choose, she'll be ecstatic that you took the time out to get something that you thought she might like.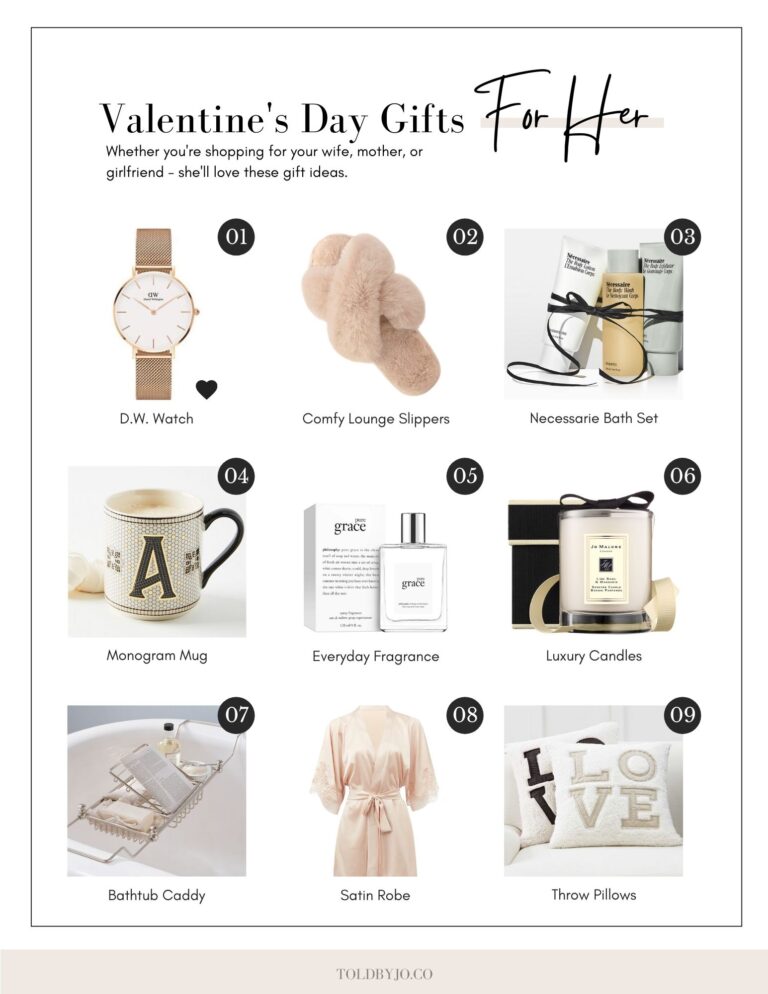 I hope these Valentine's Day gifts for him and her was helpful for you. With online shopping being the go-to option right now, be sure to have the perfect gift delivered to your doorstep just in time for Valentine's Day
QUESTION: What is your favourite Valentine's Day gift that you've received from your partner? Share in the comments below!